Using Renewable Energy Efficiently at Palm Oil Mills
reduce your CO2 footprint
Innovation Breakthrough – Helping the Environment Using Renewable Energy
Energywise is addressing global accumulation of carbon dioxide emissions by transforming the palm oil production process by using technological innovation at the palm oil mill. The innovative technologies enable the utilisation of renewable energy from the palm oil mill biomass residue at significant higher efficiencies.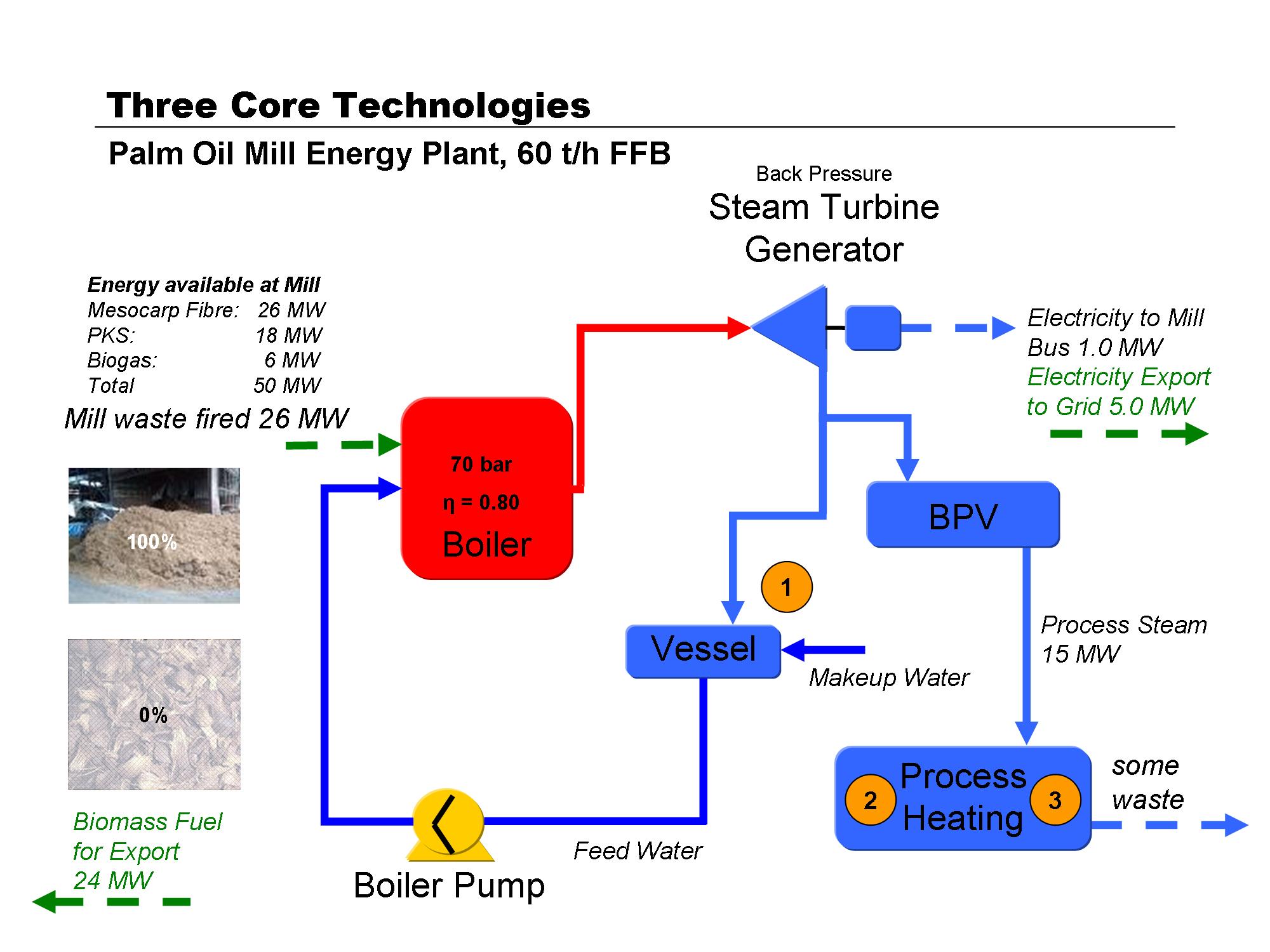 The patent pending technology is comprised of three revolutionary core components:
Shielding Erratic Steam Flows: The erratic steam flow patterns of the palm oil extraction process are shielded from the energy plant by a thermal buffer system. The patent pending system enables the boiler and steam turbine to operate under near steady state conditions significantly improving energy efficiencies.
Reducing Steam Conditions for Sterilization: A patent pending technology allows for easy, quick and complete air removal from the conventional horizontal sterilizers. The innovative technology together with the inherent freely draining condensate enable the horizontal sterilizer to effect the most energy efficient sterilization process in palm oil mills. The new sterilization process uses steam at a pressure as low as 1.5 bar abs with steam consumption as low as 110 to 130 kg / tonne FFB and a sterilization time of about 40 minutes in single-peak cycles to achieve effective sterilization.
Optimising Process Steam Temperatures: By means of a patent pending system pressures and temperatures of the steam exiting the steam turbine are optimised for the palm oil extraction processes as an innovation. This allows for both efficient use of steam in process heating and in power generation.
The three technologies work together to improve the utilisation of renewable energy from the biomass residue at significant higher efficiencies. By exporting surplus renewable electricity and biomass fuel for use elsewhere the palm oil mill is able to reduce atmospheric CO2 emissions and the carbon footprint of palm oil.